GRAND CANYON PRO RODEO ASSOCIATION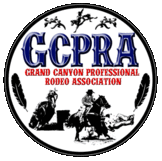 (5/24/2017)
GCPRA Board of Directors, Members, Family and Friends:
I would like to take a moment and say Thank you to one of our Board Members Paul Brashears Our Open Team Roping Director for his years of service as well as For the passion and knowledge he brought to our Association, and the great sport of Rodeo. Paul has announced his resignation from the Board of Directors today. Paul's business has excelled and with that comes high demands and obligations. We wish him all the luck and success. He has stated he will still be around Rodeo and compete often, Paul we thank you again for all you have done for the GCPRA.

God Bless!
Sincerely,
Rob Deeran
GCPRA President
************************************************************

Welcome to 2017 - I hope everyone had a Great Holiday Season. I would like to take a moment to welcome New Directors to the GCPRA Board:
Vice President - Tammy Arnold
Open Tie Down - Willard Moody
Barrel Racing - Breann Chambers
Director at Large - Arnold Burruel
State Secretary - Patsy Alexander
Each of these new Directors, along with Patsy and our current directors, bring a lot of knowledge and experience to our association and I'm grateful to have them on the Board. Please feel free to reach out to them if you have any questions.
Our Wyatt Althoff Memorial Membership Drive Rodeo in Gilbert, AZ is fast approaching at Welcome Home Ranch on January 14th & 15th. This is a separate rodeo each day. You must be a member to compete at this rodeo! There will be an increase in added money this year, along with added bonus money of $1000.00 donated by Linda & Casey Smith. The bonus money will be split between high money All Around Cowboy and Cowgirl over the entire weekend.
Entries are open from 6pm - 10pm on Monday, January 9th. The order of events has been posted on our website.
Approximately midday Saturday the 14th, we will have a tribute to Wyatt in the arena with his family. I would ask and encourage all contestants either on horseback or not to gather in the arena with his family to pay tribute to Wyatt. There will be a brief membership meeting following the tribute.
Incentive Team Ropers you must have a current 2017 WSTR or USTRC card and show proof when you pay your entry fees. An actual card, or a printed copy of a paid receipt (or screen shot on your phone) and Valid ID to show your current will be accepted. If do not have proof you will be an open team no exceptions! Any questions feel free to reach out to your Team Roping Directors.
Incentive Tie Down Ropers: If you have not filled out an Incentive Application in the past, you must fill one out, and it will be reviewed by the Incentive Tie Down Director. If you have any questions feel free to reach out to the Incentive Tie Down Director at anytime prior to the rodeo. Applications can be found on the GCPRA website.
2017 GCPRA Membership Applications will be available on site each day, for faster check-in I would encourage you to visit our website and print and fill one out prior to rodeo.
For more information I would encourage all to visit gcpra.net
I look forward to seeing everyone on January 14th and through out the 2017 Rodeo Season. Safe travels and see you all soon. God Bless!
Sincerely
GCPRA President - Rob Deeran